SENIOR NIGHT SOCCER GIFTS
SeniorNightGifts.com ask you kick things up a notch by ordering "CLASS OF 2022" soccer balls that you can present to each of your senior soccer players this season. We create artwork in your school or team colors that includes your school name, your team logo and mascot name. Once you approve the design, we will print it on either size soccer ball. The senior night soccer gifts can also be custom-made with kid's name and their jersey number.
These special senior night soccer gifts come in two different sizes that have the traditional black pentagons and white hexagons. Soccer ball sizes are regulation size soccer ball (Size 5) and a mini soccer ball (Size 1). Both offer enough room for signatures from the coaches and other players. All soccer balls come with a black stand, that's terrific for displaying the soccer ball in the bedroom or trophy room.
These senior soccer gifts are usually presented to the soccer players during their senior seasons last home game (i.e. - senior night) or at the end of season soccer banquet.
All soccer balls have an athletic valve for re-inflating and ship fully inflated.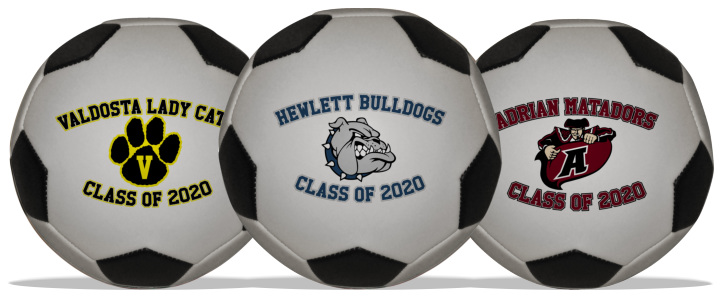 No minimum order. Quantity discounts are available.
A one-time setup fee of $30.00 might be required for artwork/design. This fee is waived if you provide the artwork/design or if we have worked with your school in the past.
Soccer ball are also great for:
Player of the Game Awards (Offense & Defense)
MVP Awards (Reward your players with a soccer ball instead of a plaque)
Milestone Soccer Balls (1st win as Head Coach, 100th win, school records)
Camp Soccer Balls (Each camp attendee gets a soccer ball)
Inaugural Season commemorative soccer balls
In addition to soccer balls, we also print on baseballs, basketballs, footballs, softballs, mini home plates and volleyballs.